Después de mucho tiempo :-), en esta ocasión haré publicaciones a modo de documentar el recorrido que haré para ingresar al equipo de Infraestructura de Gnome, partiendo con Git y luego con Puppet (Juraba que era Ansible por Dios
Summary: Learn how to load all Windows PowerShell modules at startup.
How can I load all of my Windows PowerShell modules when I start the Windows PowerShell console?
In your Windows PowerShell profile, use the Get-Module cmdlet and pipe …
Well, this week is kind of a very tiresome week for me because I needed to spend lot of time trying to grasp the correct process which I need to follow in integrating the styles I have coded, to the …
Setting up plasma-desktop (4:5.3.1-0ubuntu3) …
No backports PPA required.

Just a quick note.
I'd written earlier about setting the Gnome Shell session status to "busy". The post documented how it could be done from the terminal. We'd been discussing this on the Fedora Workstation mailing list and one …

KDE touchpad configuration module supports both Libinput touchpad driver and Synaptics driver. Newer versions of distros like Fedora 22 comes with both libinput and synaptics drivers installed, where libinput driver is chosen by default for touchpads. Some users wanted to …
The idea behind this video is to show Ubuntu equivalents for my most used Android apps.
Ubuntu apps shown:
Google+
YouTube
Gmail/Photos/Calendar/Drive
HERE / OSMtouch
Camera
Udropcabin
File Manager
CuteSpotify
Honourable Mentions:
OSMtouch
Telegram
EDIT: The small font bug …
Summary: Teresa Wilson, Microsoft PowerShell MVP, introduces the new Scripting Games for 2015.
Hello everyone. Teresa Wilson (aka The Scripting Wife) here with this month's PowerShell Spotlight. I am going to spill the beans about the Scripting Games with …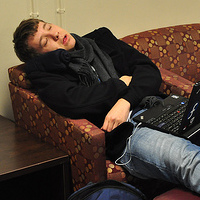 I spend a fair amount of time just reading things that interest me. As outlined in [[http://doc.rix.si/org/fsem.html#sec-8][FSEM]], I use Gnus as my primary method to consume newsletters, blogs, and media. I thought it would be interesting to dig in to …
Keeping with the theme of 'Gentoo is about choice" I've added the ability for users to include kdbus into their gentoo-sources kernel.  I wanted an easy way for gentoo users to test the patchset while maintaining the default installation of …
NOTA: Contrario al caso de NVIDIA (por ejemplo) a menos que tengas una razón muy específica para hacerlo (la minería de criptodivisas se me viene a la mente) instalar los drivers propietarios de AMD/ATI no te traerá ningún beneficio, ya …
The Release Tools and Infrastructure Fedora Activity Day happened recently at
the Red Hat office in Westford, Massachusetts.
The goal was to bring our release tooling and processes up to speed with the current and future demands of the Fedora …
Red Hat Summit was a blast this year. I participated in several Hands On Labs to help the community learn about the new tools that are available in the ecosystem. For one of the labs I wrote up a section …

Have you ever wanted to checkout to a remote branch of a peer of yours? Let's say he pushed his commits to GitLab but didn't merge to master yet. All you have to do is:
git checkout -t -b name_for_the_remote_branch_locally…

All, I'm pleased to announce release 0.14.0 of Oz. Oz is a program for doing automated installation of guest operating systems with limited input from the user. Release 0.14.0 is a bugfix and feature release for Oz. Some of the …
Summary: Use Windows PowerShell to get a list of users who are licensed in Office 365.
How can I get a list of all users that are licensed in Office 365?
Use the Get-Msoluser cmdlet from the MSOnline module …
Gartner research recently published their Magic Quadrant for Public Cloud Storage Services and recognized Microsoft Azure as a leader for the second year in a row based on completeness of our vision and ability to execute. This comes at the …
The Meizu MX4 Challenge deadline is approaching fast with just a few days to go. July 1st is the last day for submissions to be accepted for the challenge.
Registering your submission
To register your submission for the judges review, …
DISCLAIMER: This is a post oriented to Fedora, Centos and RedHat  distributions, although, most of the info is valid for any RPM distribution, with some minor differences
Most of the time, there's confuse pages, too simple info or damn …

This blog describes how to prepare Red Hat OVAL (RHSA/CVE) content for automated vulnerability audit using Foreman or Red Hat Satellite 6.1.
Using RHSA stream on single machine
Red Hat publishes OVAL content for assessing vulnerabilities at https://www.redhat.com/security/data/metrics/ . The …

Scribus is a well known tool that quite a few people use for creating documents. One of the more useful features in Scribus is the scripting support. I had quite a silly task at hand – we have some …
The Varnish project has a new little baby arriving soon: Hitch, a scalable TLS proxy.
A bit of background:
Varnish is a high-performance HTTP accelerator, widely used over the Internet. To use varnish with https, it is often fronted by …
96boards is an idea from Linaro to produce some 32 and 64-bit ARM boards. So far there were two boards released in "consumer" format and few more announced of rumoured. The specification also lists "extended" version which has space for …